Health & Medical Information
Health and Medical Information
We are best placed to support your child/rens' health needs when we have the right information. Take the time to communicate any permanent/temporary changes to your child's medical and health requirements so we can provide them the best care when they are at school.
Medical Policies
If your child is not feeling the best please keep them home.
If you are unsure ask yourself:
Would you want your child around other sick children?
Will they be able to actively participate in a full days activities and gain full benefit from the programme?
Trust you own instincts and knowledge of your child!
If your child becomes unwell or injured while at school we will contact you so you can arrange for them to picked up.
It is important that you keep your contact records up to date, so we can contact you in case of emergency. 
If your child is absent from school please notify the school using the website ABSENTEE eform, alternatively phone the office.
Care Arrangements for Unwell Students
Medication
Staff will assist parents with reasonable requests for the administering of prescribed medication where there is an agreement between staff parent and Principal and where written instructions from the prescribing doctor have been provided by the parent. If you require school staff to administer prescribed medication please complete the form and return to the school office.
Administration of Medication Form
School staff are responsible for student welfare and need to know if a student has a valid medical reason for carrying prescribed medicine to school. Where a child has brought medicines/tablets into the school without ratification from parent, teachers will take possession of the medication and contact parents to complete the form above or ask for the medication to be collected.
Students are NOT to keep medication (prescribed or non-prescribed) in their bags.
Staff will not be involved in administering non-prescribed medication to any child.
Drugs such as travel sickness, antihistamines, asthma puffers, and cough mixtures can have side effects such as drowsiness, nausea, and may affect student performance. It is also the responsibility of the parent to notify school staff if a student is taking over the counter medicine.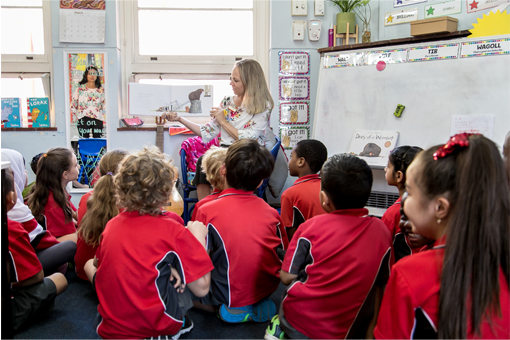 Attendance
If it is necessary for a child to be late, or absent, a brief written explanation is required containing the following information:
date of absence
child's name
child's class
reason for absence
signature of parent or guardian
Notes can be or emailed to carlisle.ps@education.wa.edu.au or alternatively by using the ABSENTEE eform on our website.
Although Kindergarten is not compulsory it is important that children attend regularly for their social and emotional development. A brief explanation or note addressed to the Class Teacher to explain absences would be appreciated.
We are now required by the Education Department to mark any student absent during the term due to being on a holiday as an "Unauthorised Vacation" as students are required to be at school during the whole term.
Head Lice
Head lice (pediculosis) are tiny insects that live on the human scalp where they feed and breed. Probably between 2-3% of primary school children are infested at any one time. While they do not carry or transmit disease, they are a cause of head itch and scratching, which may lead to infection and swollen lymph glands; therefore, they need to be controlled.
Staff and students are reminded:
To respond to reports of head lice quickly and effectively.

To ensure effective processes for treating head lice are well known and consistently.

To ensure that parents and guardians are well informed about head lice and their treatment
Implementation:
Anyone can catch head lice. Head lice cannot fly, hop or jump. They spread from person to person by head to head contact, and may also be spread by the sharing of personal items such as combs, brushes and hats.

Parents have the primary responsibility for the detection and treatment of head lice on their children, the school will assist by offering up-to-date information about head lice treatment and prevention and alerting parents of lice when detected.

Consistent with Health (Infectious Diseases) Regulations 2001, the school will ensure that the parents of any child found to have live lice are informed and will be required to have appropriate treatment

The school will also provide parents of children found to have live lice with information about head lice treatment and prevention.

The school will ensure that information relating to the prevention and eradication of head lice appears throughout the year in the school newsletter, particularly at times of heavy infestations.

A requirement that parents/guardians refrain from sending their children to school with untreated head lice. (It should be noted that students may be treated one evening and return to school the next day and that the presence of eggs in the hair is not cause for exclusion. Parents/guardians need to be aware that one treatment is not sufficient to manage the problem. If a student re-attends school with live head lice the school may again exclude the student until the live insects have been removed.
Check all other household members for head lice infestation using the method described above.
Sun Smart
A healthy balance of ultraviolet radiation (UV) exposure is important for your health. Over exposure to the sun presents a serious health risk. Students must therefore be educated as to the need for suitable sun protection, and protected from over exposure to the sun whilst at school.
Aims:
To educate students on to suitable Sunsmart protection strategies.

To encourage students and teachers to maintain a healthy UV exposure balance.

To work towards a safe school environment that provides shade for students, staff and the school community at appropriate times.
Implementation:
This policy is to be read as part of our Student Dress Code.

During the Sunsmart period students will be required to wear Anti-Cancer Council approved close weave bucket or broad brimmed hats (at least 6 cm rigid brim).

Students without bucket or broad brimmed hats will be restricted to play in designated shaded areas.

Students will be permitted to apply a broad-spectrum water resistant sunscreen provided by their

parents.

The school board provides adequate shade structures for students as practicable; particularly over high density play areas such as sand pits and play equipment.

The school will ensure that school uniform bucket or broad brimmed hats are available for purchase from the uniform store.

The school will be highlight and reinforce the Sunsmart policy.

Sunsmart activities and sun protection will form part of the Health and Physical Education curriculum at all year levels.